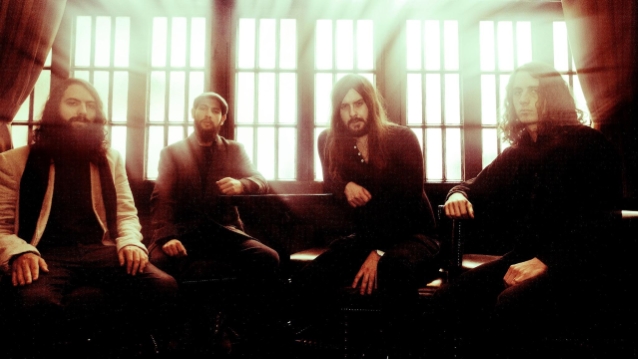 By Andy Thunders
Uncle Acid and the Deadbeats' follow-up to 2015's The Night Creeper is here, in the form of Wasteland, a story of a dystopian nightmare.
"I See Through You" starts out with an intro that includes sirens and an eerie voice on a megaphone, then it builds up into this dark, groovy, psychedelic, Sabbath-type of vibe. Gives ya a chill up the spine. 'Somebody switch the oxygen off, and take their games away' as an opening line narrates of the beginning of a doomed world. Sounds familiar, eh?
"Shockwave City" has a great opening riff, and moves onto a brilliant flow. Such sinister vibes, painting a movie in your head like their albums usually do, 'into the darklands we fall, to an emptiness there waiting, they have the chains on us all, behind the walls of Shockwave City.' The solo is like Iron Maiden meets Black Sabbath. It ends with the chorus, which leads into a jam-like solo that fades out the tune. Slight early KISS vibe.
"No Return" is pure dark, a bluesy Doom flow with fuzz and a groove. It features some eerie organ keyboards. It builds up like an orgasm into a monster of a riff. The opening lyrics 'Come taste the darkness, fulfill the urge, out sky is stateless, as we hear the dirge' spell out post-apocalyptic hell hole. This is eerie because to be honest, we don't feel that far from it. There's a break with some impromptu jams, and goes into an almost Electric Wizard circa Dopethrone kind of riff. It is absolutely amazing. It ends with eerie TV channels constantly switching, and radio signals going back and forth, with a funeral organ playing.
"Blood Runner" begins with air raid sirens, and then explodes into a heavy psychedelic Iron Maiden type song. Holy shit! This song is fucking great! The harmonies and riffs, the raw analog production, and the intensity of the performances captured on this record do not disappoint in the very least. The solo is a great one by frontman Kevin Stars, who is also lead guitarist and main songwriter. Fucking insane.
Side 2 starts off with a punky psychedelic tune called "Stranger Tonight." 'Your neck is warm to touch, if I squeeze a little too much, cuts off your blood and brain, until you're like everyone.' That is fucking incendiary. This song is seriously like 60s garage horror punk in a way. Uncle Acid never disappoints.
"Wasteland" begins with a synthesizer that has a despondent buzz, and an acoustic comes out to play. It seems the lyrics are about the end of mankind. Beautiful, yet unnerving. Sounds of winds and water crashing throughout make the atmosphere perfect. 'Four horsemen arrived at daybreak, as the sky up ahead turned black, the cold and the rain cut through them, but they knew they'd never come back.' Almost Pink Floyd in a way. Rest of the band comes in and it sounds like 60s Era Floyd gone evil. Phenomenal tune.
"Bedouin" begins with a fuzzy guitar fading in, and then it's a psychedelic Iron Maiden, Black Sabbath orgy, musically speaking. Great song with outstanding riffs and awesome vibes. Dark, sinister, satanic vibes with dope smoke permeating over a graveyard.
The final track, "Exodus," closes the record with a hypnotic, vibey, psychedelic, prog kind of sense. The lyrics depict a guy who saw the shit that went down, and he ran and watched from afar, watching everyone else become controlled, manipulated, and exterminated.
This is yet another phenomenal record from Uncle Acid and The Deadbeats, always telling a story that is relatable, and not chasing their own tales artistically either. Extraordinary and fitting for the world we live in, and if we're not careful, where it will lead.
1. I See Through You
2. Shockwave City
3. No Return
4. Blood Runner
5. Stranger Tonight
6. Wasteland
7. Bedouin
8. Exodus
Follow Uncle Acid and the Deadbeats on their social medias: